Toadies will release their new album
No Deliverance
on August 19th. Led by singer Vaden Todd Lewis, the band was part of the 1990s post-grunge "alternative" rock era – which also produced Stone Temple Pilots and Smashing Pumpkins. The Toadies single "Possum Kingdom" (from 1994's
Rubberneck
) is one of those songs – like Sponge's "Molly", Seven Mary Three's "Cumbersome", and Tool's "Sober" – that instantly transports me back to high school every time I hear it. Unlike some of the other bands of that time that have tried and failed to make a comeback, Toadies have successfully brought their rough rock sound into the modern age.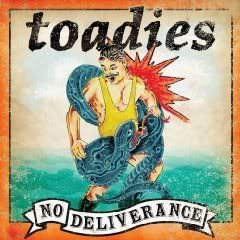 I was starting to think I'd lost my love of rock music, since I mostly listen to blues and folk these days. But it seems to be the quality of the rock rather than the noise itself that had turned me off. Toadies songs like "So Long Lovey Eyes", "I Am a Man of Stone", and the stand out track "Flower" quake with the kind of guitar reverberation and severe drum thump that has sadly been absent from the aughts, and Lewis' throaty wail is still in top form.
The bluesier dissonance and muffled vocals of "No Deliverance" sound like the testosterone answer to PJ Harvey's "To Bring You My Love". Other tracks are a blander brand of '90s influenced rock, but I'd listen to this album over so-called "indie-rock" bands any day.
Toadies – No Deliverance (mp3 expired)
Toadies Official Site
Toadies on MySpace
Buy @ Amazon