Xavier Rudd's
Dark Shades Of Blue
was released today. The Australian singer-songwriter and didgeridoo extraordinaire has so far restricted himself to only this one album in 2008, after the two consecutive releases in 2007: the re-release of
Food in the Belly
followed by the amazing
White Moth
(one of my favorites of
2007
). The goal of the new disc was to capture the sound of one of Xavier's concerts. Since I was first introduced to Rudd's music during his set at
Mountain Stage
, I was eager to hear yet skeptical of any studio recording trying to recreate the entrancing effect of Xavier's live shows. But
Dark Shades Of Blue
goes beyond expectation.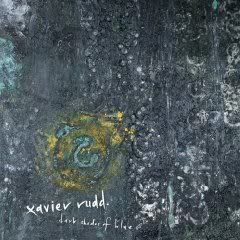 I was given two eyes and I see
Season change is happening all over
The rearranging of governments much slower
Elders speak straight from The Creator for centuries
Now their message is not deemed of worth
Dark Shades of Blue was recorded entirely in Rudd's native Australia after an intense and exhausting year of touring for the performer. Lyrically, the album is more cynical than Xavier's previous releases – in the past even his environmental concerns and despair over world conditions were tempered with an irrepressible optimism. Sonically, the new album emphasizes guitar noise over the bubblier acoustics and exotic didgeridoo of Rudd's "world music" past.
The instrumental "Black Water" opens the album with one continuous, thunderous guitar riff snaked through with an equally ominous yirdaki (didgeridoo). The title track follows with a similar guttural sound that is closer to Metallica's "Enter Sandman" than Rudd's nature dwelling signature style. The reggae rhythm of the stunning haunt "Secrets" at first shows a glimmer of Xavier's yesteryears, but a murky undercurrent disturbs the surface of the song.
The dissonance fades as Xavier's warm voice takes center stage on the atmospheric dirge "Guku", which features backing vocals by Banula Marika. "This World As We Know It" initially seems to be the catchy rock anthem of the album, all pulsating guitars and muffled vocals. But as the track progresses, Marika's melodic chants and Rudd's otherworldly yirdaki lift it into a higher plane.
Nori Murakawa's apparitional vox mingles with Xavier's fierce menagerie of guitars – resonator slide, 12-string acoustic, hollow body electric, and bass – as well as his own voice, yirdaki, and stomp box in "Uncle". A Chaturangui slide guitar and Udu drum lend the softer "Hope That You'll Stay" an Indian flavor, and the gentle call of birds melts into the final ballad "Home".
From the languidly organic sound of Food in the Belly to the catchier rhythms of White Moth and now the darker, quaking rock of Dark Shades of Blue, the astounding quality of his songs make me wonder if future generations might consider Xavier Rudd to be the greatest artist of this era.
Xavier Rudd – The World As We Know It (mp3 expired)
Buy @ Amazon