For Love and Laughter
is the new release by Irish band Solas. Lead by founding member Seamus Egan, the band has a new vocalist in Kilkenny native Máiréad Phelan. Karan Casey was the original singer for the group, and I believe Dierdre Scanlan was their lead vox when I saw them perform at
Mountain Stage
in 2006 (both singers appeared on last year's
Reunion
). As always, though, it's the cohesive sound of the band's instrumentation that is the focus of the new album.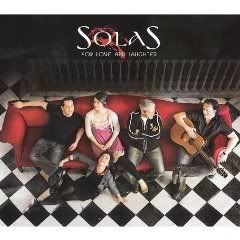 The album begins with the vibrant opening medley "Eoin Bear's Reel/For Sharon/The Rossa Reel" and I also like the atmospheric "Tilly's Jig" (coupled with "The Happy Traveler"), but it's the somber vocal pieces that I enjoy the most.
Phelan's voice is a pretty flutter on the traditional "Seven Curses" and "The Gallant Hussar", while her vocals on the astounding cover of Rickie Lee Jones' "Sailor Song" alternate between moody susurrations and haunting Lorelei calls.
Sarah Dugas of The Duhks lends her voice to "Merry Go Round" (written by Seamus Egan protégé Antje Duvekot) and other members of The Duhks contribute to the propelled instrumentation of "Vital Mental Medicine/The Pullet".
Other favorites are Egan's beautiful instrumental "Sunday's Waltz" – paired with "Solo Double Oh" – and the melancholy strings of the finale "My Dream of You".
Solas – My Dream of You (mp3 expired)
Buy @ Amazon