Antony & The Johnsons
will release the five song EP
Another World
on October 6th in the UK (Rough Trade Records) and October 7th in the U.S. (Secretly Canadian). Their previous release
I Am A Bird Now
claimed
2005
entirely for me, and I also loved their self-titled debut. I generally despise EPs, as I prefer to listen to full albums or single mp3s and EPs seem to be an annoying in-between. But it is nice to have this brief – albeit partially disappointing – taste as I eagerly await Antony's full-length release
The Crying Light
in 2009.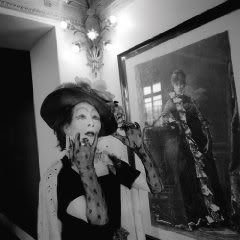 "Another World" is a quiet, elegant lament over the decline of the environment that fits beautifully with Antony's unusual voice. I always believed that Antony's voice could carry any tune, but I think "Crackagen" and "Sing For Me" either need more punch to their instrumentation or Antony needs a bit more emotion in his voice. Neither song produces the kind of chills I've come to associate with the band's music.
However, the sparse arrangement of the first half of "Shake The Devil" only serves to make his vocals that more haunting…though the retro beat and brass of the second half disrupt the song's spell for me. The pretty piano finale "Hope Mountain" – a tale set after a flood when a group of people gather on a mountainside to witness a girl walking on water – also recaptures some of the old magic. The EP increased my excitement for the new album, but also lowered my expectations for it.
Anthony & The Johnsons – Another World (mp3) *
*Click link to download at YouSendIt. Mp3 uploaded by & posted with permission of Girlie Action PR.
Antony & The Johnsons – Another World (video)
Antony & The Johnsons Official Site
Buy @ Amazon