Last weekend, Brendan and I drove to Parkersburg, West Virginia to visit Trans Allegheny Books. The owners have transformed the beautiful, 4-story historic Carnegie library building into the most unique used bookstore I've ever seen. Trans Allegheny Books reminded me of The Winding Stair in Dublin, Ireland. It has a gorgeous wrought iron and brass spiral staircase, stained glass windows, a hand-carved wooden staircase, and floors made of frosted glass tiles.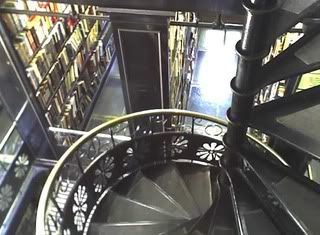 Every inch of the building is covered in books, and they have a great selection of poetry, non-fiction, classic literature, and new fiction titles in a wide range of editions (from dusty old hardbacks to sleek new oversized paperbacks) all around $3-5 each. I think we bought around twenty books during our recent visit, mostly classics.
As if the books weren't enough for me to love the place, they also have two cats living in the shop! Forget Dewey
, there should be a book about Trans Allegheny. One of the cats – a very sweet tortoiseshell feline – followed me around while I browsed through the books. It was heaven.
There used to be a Trans Allegheny branch in Charleston a decade ago (which we loved so much, we visited after our wedding), but it closed. Sadly, it seems the Parkersburg store may soon follow if business doesn't improve. Not only have so many people abandoned reading books in favor of the internet, but the economic slump has apparently hit the bookstore hard. So if any of you happen to travel through the Parkersburg area, I definitely recommend checking it out. You can also order books online, view more pictures of the bookstore, and get directions at their website.