Alice Russell's sophomore studio album
Pot of Gold
was released digitally on November 4th and will be released physically on January 6th, 2009. The British soul singer has been compared to
Amy Winehouse
, Joss Stone, Adele, and Duffy.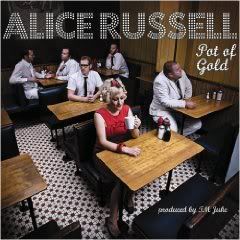 Songs like "Turn and Run" are all hyperspeed tempo, retro soul vocals, and brass. "Two Steps" begins with a bland, cookie cutter arrangement, but Russell's voice saves the second half of the song. The comparisons are understandable, but I find Alice's voice much more palatable than Duffy yet less interesting than Winehouse.
The unusual melody and bombastic wails of tracks like "Living The Life of a Dreamer" and "Let Us Be Loving" remind me a little of Zap Mama or Alice Smith. "Got The Hunger" has more of a gospel-influenced soul vibe.
The stand out is "Lights Went Out", which slides from an ominously pretty string intro into a jazzy first verse before unleashing a blast of bluesy soul. The remainder of the album begins to lag a bit, but Alice's stellar voice is worth the listen.
Buy @ Amazon