I've been meaning to post about the new Anais Mitchell and Rachel Ries
Country E.P.
, and this seems an appropriate time since the duo will be performing at the
Songs: Illinois
house concert this weekend. Mitchell and Ries wrote two songs each, and the other track is a Louis Ledford cover. I'm a big fan of Anais Mitchell, whose album
The Brightness
was #2 on my
Top of '07
list and her performance at
Mountain Stage
was my favorite concert of last year.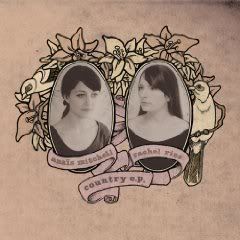 Had this been a full-length album, I would have devoured and raved about it long ago. But as I've said many times, I generally find EPs annoyingly short and rarely give them a second listen. And while the 7″ vinyl record that came with this particular EP is charming, I personally would have preferred a full-length CD instead. A five-song CD coupled with a three-song LP seems an ill fit both for Luddites like me who still actually listen to albums and the mp3 crowd who download individual tracks. However, this is about as good as an EP gets and I at least respect the artistic vision of the set.
Of course, once I listened to Country E.P., I kicked myself for waiting so long. I should've known it would be so beautiful. Unusual and pretty harmony floats through the dusky opening ballad "O My Star", Rachel's throaty lilt takes center stage on "MGD" and the speakeasy number "Grace The Day", and Anais' quirky croon shines on "Come September" and the wistful finale "When You Fall". Both singer's voices are perfectly suited to this old-fashioned style, and the delicate old-timey instrumentation is lovely.
I was not granted permission to share an mp3, but you can hear samples at the links below.
Buy @ Amazon