Elephants…Teeth Sinking Into Heart
is the new two-disc set from singer-songwriter Rachael Yamagata.
Elephants
is a full album of the kind of prettily melancholy piano ballads that we've come to expect from Yamagata as well as some new vocal acrobatics, while the five-song
Teeth Sinking Into Heart
gives a taste of an entirely different pop-rock musician. I posted about Rachael's music back
in 2005
around the time her songs began popping up on tv shows like
The O.C.
. More recently, Yamagata sang backup on two
Bright Eyes
recordings. I am very excited by the prospect of seeing Rachael perform live at an upcoming
Mountain Stage
show.
Elephants…Teeth Sinking Into Heart
features guests Ray LaMontagne, Maria Taylor, and James Valentine of Maroon 5.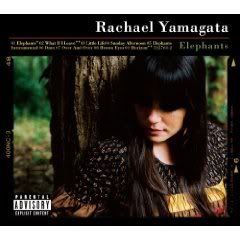 Elephants is full of heartbreak and subtle beauty interspersed with cinematic instrumentals, from the whisper soft piano and stirring strings of its gorgeous title track through the sparse "Duet" (which features Ray LaMontagne) and onto the finale "Horizon".
"Little Life" stands out with a more somber, quasi jazz sound that at first callls to mind Cat Power but then Rachael lets out a wail and the soaring, throaty vocals that follow are beyond compare. Those full throated howls continue in "Sunday Afternoon". Until now, I've never really understood why Rachael is compared to Fiona Apple. Maria Taylor sings backup on the atmospheric "Brown Eyes".
I'm not usually a fan of double albums, but this is a definite exception. Yamagata was right not to disturb the gentleness of the first disc with the catchy loudness of the Teeth Sinking Into Heart song cycle, yet the songs are too good to discard. "Sidedish Friend" roars in with infectious guitar and handclaps, "Accident" has darker grit without losing an ounce of momentum, the quieter "Pause The Tragic Ending" sways on Lynchian twang and orchestral drama, and "Don't" has a languid dissonance.
I think this one might make the best of '08 list.
I was not granted permission to share an mp3, but you can hear samples at the links below.
Rachael Yamagata Official Site
Buy @ Amazon