Meursault are a Scottish band so loved by
Song, By Toad
that he signed them to his own
label
for the release of their debut
Pissing On Bonfires/Kissing With Tongues
. I foolishly dismissed his ravings about the Edinburgh band as yet another "indie-rock" act that I wouldn't be interested in. It was not until
Music For Kids Who Can't Read Good
mentioned that Meursault plays banjo and ukulele that I finally downloaded some of their songs. Then I gave myself a good kick.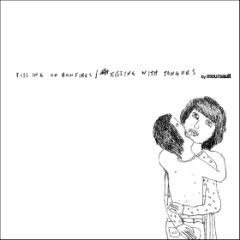 Meursault – I assume named after the protagonist of The Stranger
by Albert Camus – are led by singer-guitarist Neil Pennycook. Chris Bryant and Callum MacLeod provide the aforementioned banjo and ukulele, while Fraser Calder plays cajon (a beatbox also enjoyed by Jacob and Lily).
My opinion of the album, as always, seems contrary to the majority of reviews I've read. I'm not too fond of the overtly electronic style of "Salt Part 1", "A Few Kind Words", or "Lament For A Teenage Millionaire".
Yet I adore the refreshingly bizarre blend of electro-rock clang and folk delicacy on songs like the instrumental "Statues of Strangers", the atmospheric title track, and "Salt Part 2". "The Furnace" is a particularly stunning backwoods disco, and "A Small Stretch Of Land" as well as the finale "Oh Neighbourhood!" are beautiful simplicities.
Meursault – The Furnace (mp3) *
*>*mp3 hosted on the website of Song, By Toad Records & the links are posted here w/ their permission
Buy Mp3s @ Amazon