Nightjar is another band signed to
Song, By Toad Records
that I love. Seems the Edinburgh music scene is a little more Appalachian than Scottish at the moment. Nightjar in particular would fit in well with
Old Crow Medicine Show
,
Felice Brothers
, and
The Avett Brothers
. Their rustic six-song EP
The Moth Trap
will be released on December 5th, and features Kris Drever.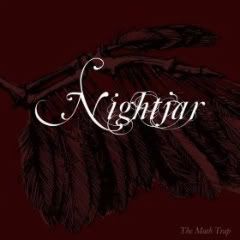 The opener "The Hanging Tree" is my favorite on the EP, though it's difficult to narrow it down to just one track. After a serene instrumental introduction, the song transforms into a peppy banjo and violin whirlwind that ebbs and flows with gritty vocal verses. The quiet quiver of "Dancefloor" follows.
"Poor Man's Song" is a haunting banjo pluck that Kris Drever recently covered on his own album Black Water
. "Sweet Annie Lee" leans more into a Dylanesque folk style, while the quirky bluegrass number "Salesman Song" would surely be a hit at Mountain Stage.
Nightjar – Poor Man's Song (mp3) *
*mp3 hosted on the website of Song, By Toad Records & & the links are posted here w/ their permission
Buy Mp3s @ Amazon