Bell X1's Blue Lights On The Runway will be released on March 3, 2009. The re-release of the Irish band's previous album Flock was #7 on my Top 21 Albums of 2008 list, and their performance at Mountain Stage was my favorite concert of last year. So Blue Lights On The Runway was one of my most anticipated releases of the new year. I'm happy to say the boys have not disappointed me at all. They have taken a huge leap out of former bandmate Damien Rice's shadow to experiment with a catchy electro-rock style closer to classic Talking Heads
.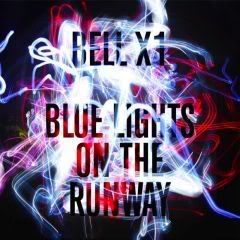 What continues to set Bell X1 apart from other "indie-rock" bands is the beautiful balance they create between Paul Noonan's ethereal vocals and the electro- pop and rock sound of the band's instrumentation. Clever lyrics and an obvious passion for their art doesn't hurt either. Whether singing poignant love songs or jubilant pop numbers, Noonan obviously puts his whole heart into whatever emotion the song focuses on.
The opener "The Ribs of a Broken Umbrella" slides in all chimes and atmosphere, gaining momentum with some faint handclaps and whizzing electronics. It's an upbeat, uplifting beginning to a positively joyous aural experience. "How Your Heart is Wired" (which I posted earlier this month) is an ambient electronic track, which a lesser band could not carry off nearly as well as Bell X1 do.
"The Great Defector" is my personal favorite. The opening verse is peppy enough, but the chorus explodes into a brilliant firework display of delectable pop. I often forget and have probably given readers the impression that I don't like pop music, but Blue Lights On The Runway reminds me that it all depends on the quality of the artist. The songs on this album are as happy and infectious as anything you might hear on the dreaded radio, yet they have substance and beauty. They're respectable pop songs? Whatever. I haven't listened to a mainstream radio station since last summer, but I've had a grand ole time driving around town dancing in my car to this album.
The dreamy ballads "Blow Ins" and "Amelia" give the album pause. Both are pretty, but it's the lovely "Light Catches Your Face" that is the true heir to "Eve, The Apple Of My Eye". The cowbell makes a welcome return on "A Better Band", which again invokes the spirit of David Byrne for about four and a half minutes until a burst of pure rock guitar takes over.
The otherwise understated melody of "The Curtains are Twitchin'" is dazzled with a surprising splash of New Orleans brass. The song is the radiant finale to this magnificent album. Blue Lights On The Runway is another early favorite of 2009.
Bell X1 – How Your Heart Is Wired (mp3 expired) *
*mp3 provided by & posted w/ permission of Filter Magazine & Yep Roc Records
Bell X1 Official Site
Bell X1 MySpace
Pre-Order @ Amazon
(not yet available)