Oh My God, Charlie Darwin is the third and most recent release from The Low Anthem. I first heard the music of the trio when they ran around trading instruments on Mountain Stage. Founding members Ben Miller and Jeffrey Prystowsky have taken vocalist and clarinet player Jocie Adams into their fold. The result is an eclectic multi-instrumental wonder.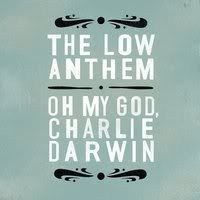 The child insubordinate disrupts the pecking order
So go marry yound while you can
'Cause the weave of the rug and the cut of the throne
Testify before the ocean's open hand
The ethereal falsetto of "Charlie Darwin" stands in drastic contrast to the weightier tone of What The Crow Brings. I laughed when "To Ohio" played, simply because its overtly "indie" style makes it my least favorite track and yet it seems to be the most popular with other music bloggers. I guess that says a lot about my place as the weird, estranged cousin in the music blog family. 🙂
The intertwined rock growl and backwoods thump of "The Horizon is a Beltway" and the Waits/Kerouac tune "Home I'll Never Be" much more interesting to me. Once again, I must recommend The Low Anthem to fans of Felice Brothers.
The ballads "To The Ghosts Who Write History Books" and "God Cage The Songbird" ebb and flow beautifully. The sighing instrumental "Music Box" lives up to the tinkling suggestion of its title, and "Champion Angel" sounds like Alejandro Escovedo.
The Low Anthem – Home I'll Never Be (mp3 removed) *
*mp3 posted with permission of the band's manager
Buy @ Amazon

Buy @ CDBaby
Buy @ iTunes
Buy directly from artist