Morrissey's ninth solo album Years Of Refusal was released on February 17th and I love it! So much so that despite my vow not to write reviews during the arduous moving process, I was compelled to purge the following into type last week. After years of bland indie-rock, quiet singer-songwriters, and soft jazz crooners, it is so refreshing to hear a male singer belt out in a truly good, robust voice.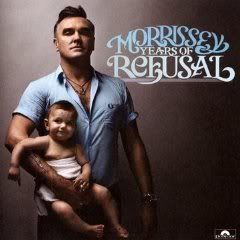 I've always liked Morrissey's voice, but must admit I'm not a hardcore fan of his solo career or his work with The Smiths
. There are several songs that I adore ("Asleep
", "There Is a Light That Never Goes Out
", "The More You Ignore Me, The Closer I Get
", just to name a few), but in general I've felt that Morrissey's rich voice has been wasted in nice but lackluster melodies. Not so now. Years Of Refusal finally puts his pipes to good use over soaring rock arrangements.
I can't definitely describe the inspirations behind the songs, or the album's title and cover art. Morrissey himself insists "I like everything to be a discovery for the person listening. I don't want to explain how anything happened. I don't want to be forced to say the same thing all the time, about why I did this, or didn't do that."
But as he also states: "I started to love how the singer can be singing about something sad or horrible but singing it in such a way that the listener can be hypnotised." And that is exactly the appeal of Morrissey's music to me, this album in particular. I like lyrics to be deep and poignant, but I think such serious content is better served over bold arrangements than somber ones. Which is what I love most about Years of Refusal.
Tracks like the brilliant and bombastic opener "Something Is Squeezing My Skull" (during which Morrissey pleads to be free of medication), "Black Cloud" (featuring legendary guitarist Jeff Beck), and the soaring pop single "I'm Throwing My Arms Around Paris" address such serious subjects as depression and abandonment, yet this pathos is wrapped in vocals and melodies that are full of life and power. This is far more attractive and inspiring than limp emo ballads.
That's not to say that there aren't revisits to the melancholy sound of Morrissey's past, such as in "Mama Lay Softly On The Riverbed" and "One Day Goodbye Will Be Farewell". But more often there is a delightfully acerbic humor present that is pointed directly and mercilessly at lovers past and present: "All You Need Is Me", "When Last I Spoke To Carol", and my personal favorite, "It's Not Your Birthday Anymore".
And while songs like "That's How People Grow Up" (to me, a followup to "There is a Light…") and the finale "I'm OK By Myself" seem to reflect self-acceptance and maturity, lines like "This might make you throw up in your bed" show that Morrissey's emotional growth thankfully hasn't dampened his sarcasm one bit.
I was not granted permission to share an mp3, but you can hear samples and watch a video at the links below.
Morrissey – I'm Throwing My Arms Around Paris (YouTube Video)
Morrissey Official Site
Morrissey MySpace
Buy CD @ Amazon
($9.99!)
Buy Mp3s @ Amazon
($3.99!)
Buy @ iTunes