While everyone else seems to be raving about Animal Collective (excuse me while I yawn), I wonder why the new disc by The Bird & The Bee isn't get more love? I've seen a few posts here and there, but not the attention it deserves. The Bird & The Bee are Greg Kurstin (formerly of Geggy Tah – remember "Whoever You Are"?) and Inara George (daughter of Little Feat
singer Lowell George), and Rays Guns Are Not Just The Future was just released by Blue Note Records. It's not the typical jazz usually associated with the label, rather it is an upbeat and melodic mix of dream pop and dance music that is simultaneously futuristic and retro. Basically, it's a lot of fun and I love it.
After an introductory blast of "Fanfare", Rays Guns Are Not Just The Future slides into the clap happy "My Love". The dreamily infectious track sets tone for the whole album. I recommend the disc to fans of Venus Hum. The airy "Diamond Dave" follows, paying homage to Van Halen
's original frontman.
George – who recently appeared on Eleni Mandell's Artificial Fire – possesses a lovely, effervescent voice that melts beautifully into the lightest of melodies. The album's atmospheric title track is the prime example of this, though the music masks serious lyrical content. "Ray Gun" was inspired by a 60 Minutes story on an actual ray gun built by the military and the fright of things only imagined in the past becoming reality in the present.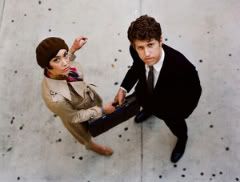 From the west to the east, I have flown to be near you
I come all this way, to be close, to be here with you
& all of my heart I will lay down precisely at your feet
The stunner is the hook-laden "Love Letter To Japan", which just may be the perfect pop song. The first time I listened to this song, I was driving through the snow-covered backwoods just as the sun began its evening descent. Bare trees cast eerie shadows on the white blanket of the ground as bright orange fire spread across the distant sky. I thought perhaps those scenic surroundings influenced my immediate and intense affection for the tune, but listening to it again indoors was just as exciting. I can almost guarantee there will not be a catchier song played anywhere this summer.
"Meteor" is a breathy, Olivia Newton John influenced retro dance number, and "Baby" pairs angelic coos with harp-like flourishes. "Polite Dance Song" – which first appeared on the Please Clap Your Hands
EP – is a humorous ode to hip-hop that isn't quite as charming as it thinks it is, but the jaunty "You're a Card" is. "Witch" simmers with sultry drama worthy of a Bond theme, while "Lifespan of a Fly" provides a delicate finale.
I was not granted permission to upload an mp3 to my own server, but Spin was. I guess the label prefers popularity over taste when it comes to mp3 authorization. Not that I'm bitter! At least their PR rep emailed me the mp3 link to post…
The Bird & The Bee – My Love (mp3) *
*mp3 hosted on Spin.com & link posted w/ permission of Toolshed Media
The Bird & The Bee – Love Letter To Japan (audio stream)
The Bird & The Bee Official Site
Buy @ Amazon