Bat For Lashes sophomore album Two Suns will be released on April 9th. Much like Fur and Gold, the new album simmers with theatrical percussion and vocal flights of fancy. Yet there's a smoother production to this disc that makes it obvious Natasha Khan (the feminine force that is Bat For Lashes) has embraced the studio atmosphere as much as the dark forest she emerged from with her debut.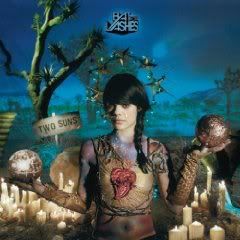 I was prepared to be disappointed by Two Suns when I read that Khan created the alternate persona of Pearl – a blonde vixen – to interact with herself throughout the album's songs. Tori Amos played out that alter-ego gimmick long before Beyoncé thought of Sasha Fierce. But whatever the lyrical concept, there's no resisting the pretty vocals and hypnotic sound of Bat For Lashes.
Natasha's solitary voice drifts in with the haunting a capella intro of "Glass" (which lifts lines from Song of Solomon) before the drums and drama begin. The underlying melody of "Sleep Alone" recalls "Trophy", but is buoyed by splashes of retro '80s synth-rock.
The softer piano ballad "Moon and Moon" reveals a more fragile side to Khan's voice and conjures up old memories of Kate Bush. And the psychedelica folk-gospel strum and hum of "Peace of Mind" is subtle and lovely.
Though the Pearl character doesn't grab my attention like the brilliant new narrative of The Decemberists, I do like the general theme of duality in Two Suns. Khan reaches beyond her two-character story to ponder metaphysical ideas, exploring the relationships between such opposing elements as dark and light, love and pain, and peace and chaos.
The electronic Tori-fest (how sad I used to be an obsessive fan, but now use Amos as a bad example) "Pearl's Dream" seems silly at first, but the song is transformed by catchy beats and handclaps about a minute in.
The Mazzy Star wanders into Twin Peaks style of "Good Love" and quaking percussion of "Two Planets" are much more appealing. The stand out track is the finale "The Big Sleep", a phantasmal piano duet with Scott Walker.
Pre-order @ Amazon