Tell 'Em What Your Name Is! is the new full-length album by Black Joe Lewis & The Honeybears, a brilliant eight-piece soul ensemble from Austin, Texas. I received an unrequested advance copy, but didn't get around to listening to it until this week. Then much kicking of self ensued for having waited so long. Not since I first heard Reverend Peyton's Big Damn Band have I felt so excited to hear such a strange ruckus blare from my stereo speakers. This one will most definitely be on my favorites list this year.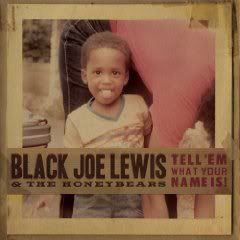 The individual songs on Tell 'Em What Your Name Is! are a little too similar to write a proper track-by-track album review here. But when the sound is this awesome, there is not such a pressing need for diversity.
The music of Black Joe Lewis is the kind of guttural, robust, bluesy soul of James Brown and Screaming Jay Hawkins, rough edged with a very modern sense of humor and garage instrumentation. It's bombastic and fantastic!
I was not granted permission to share an mp3, but you can hear samples at the links below.
Black Joe Lewis – Sugarfoot (audio stream)
Black Joe Lewis Official Site
Black Joe Lewis MySpace
Buy @ Amazon