Great Northern will release their sophomore album Remind Me Where The Light Is on April 28th. I personally did not find their previous release
to be very memorable, which is obviously why I can't recall much about it. However, Remind Me Where The Light Is has a much more captivating sound. Los Angeles duo Rachel Stolte and Solon Bixler finally seem to have embraced the eerie darkness suggested by their moniker, which I assume is an homage to the hotel in Twin Peaks
.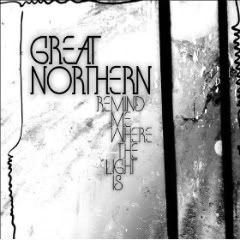 "Story" is the atmospheric, call and response pop-rock opener. There's a darker undertone to the opening verse of "Houses" despite Rachel Stolte's melodic vocal. A burst of guitar ushers in the chorus, then recedes behind the duo's intertwined harmonies. Stolte claims "Houses" speaks of accepting the truth of your life no matter how painful, while the more melancholy "Driveway" expresses the longing to be adored to the point of obsession (or as one of my favorite novels
says: "to be loved to madness").
"Fingers" is the true beginning of the album for me. Ominous instrumentation is barely restrained as Stolte's sultry croon initially floats in, then haunting sonic waves spur the song onto a lighter cloud of pop.
"Snakes" is a soaring pop-rock number that I suspect would produce chills in a live performance. Hopefully Great Northern will play Mountain Stage so I can test that theory out. Solon Bixler takes the lead on "Stop" and has just enough spirit in his voice to make the song sound more like Grant Lee Buffalo
than the current bland indie-boys.
The darkly seductive sound of "New Tricks" is another stand out moment on Remind Me Where The Light Is. The song would fit well in any of David Lynch's projects, particularly the afore-mentioned Twin Peaks
. And "Numbers" has the slow-building tension of Motorcycle's "As The Rush Comes
". Every time I listen to this album, I like it even more.
Eenie Meenie Records were kind enough to grant me permission to offer the following mp3 for two weeks, and have also given advance authorization for me to share "Fingers" later this month. So if you like what you hear, check back in a few weeks for the other mp3.
Great Northern – Story (mp3) *
Great Northern – Houses (mp3) *
*mp3s hosted by & posted w/ permission of Eenie Meenie Records & Magnum PR
Great Northern – Fingers (mp3 expired)
Great Northern Official Site
Great Northern MySpace
Buy CD @ Amazon
Buy Mp3s @ Amazon