Canadian singer-songwriter Jenn Grant released Echoes last month. Her anachronistic lilt could easily be likened to that of Jolie Holland or Cat Power, and the analog recording of the album enhances the old-fashioned mood of her music. But whatever comparable tones we may hear in Grant's voice aside, Echoes is a truly unique collection of songs that run the gamut from haunting piano ballads and soft folk acoustics to joyous retro pop.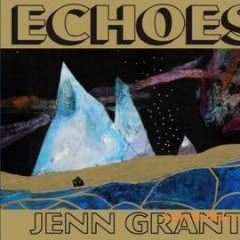 The opener "Heartbreaker" is a little too flatly morose for Grant's vocals, but it's one of the few complaints I can make about this album. The more buoyant melody of "You'll Go Far" follows, providing the perfect setting for her delicate voice. The lovely "Where Are You Now" colours a fragile folk strum with what sounds to my untrained ears like the deep creak of an oboe.
"Blue Mountains" is certainly a solid tune and will probably appeal more to others, but I feel it lacks the emotional potency found elsewhere on the album. It's airy style reminds me a bit of Lisa Hannigan's debut.
The infectious "Parachutes" melts into retro pop-folk replete with handclaps and girl group backing harmony. The ominous lurch of "I Was Your Woman" is a drastic but welcome change, and I adore the darkly uptempo piano arrangement of "Sailing By Silverships". The finale "Everybody Loves You" recalls piano sirens like Rachael Yamagata, bursting from quiet melancholia into a crescendo of piano and vocals.
Jenn Grant was born on Prince Edward Island and raised in Halifax, Nova Scotia. She has collaborated with Ron Sexsmith and Jill Barber, and toured with Justin Rutledge, Feist, Josh Ritter, and Great Lake Swimmers among others.
Jenn Grant – Heartbreaker (mp3 expired) *
Jenn Grant – Blue Mountains (mp3 expired) *
*mp3s provided by & posted w/ permission of record label
Buy @ Amazon