The Polish songstress formerly known as Gabriela Kulka is now going by her nickname Gaba, and she just released the new album Hat, Rabbit. Though there is plenty of familiar quirky piano pounding territory here for old Gaba fans, the production is much smoother than her past efforts. It's also Gaba's first full-band recording, and features her father, Konstanty Andrzej Kulka, and singer Czeslaw Mozil (of Czeslaw Spiewa).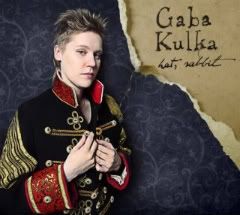 Gaba has been an online acquaintance of mine for what seems like forever, so I can't claim to be an unbiased critic. But I do believe her musical style has greatly matured over the years, and the addition of the band makes for a more robust sound.
The high energy "Hat, Meet Rabbit" opens the album, with piano and drums racing to keep up with Gaba's multi-layered vocals. Tori Amos fans (especially those disappointed with her recent releases) should flock to this album for the song, but Kulka can no longer be pinned down to that particular comparison.
The jaunty pop-jazz swagger of "Heard The Light", the pensive beauty of "Aaa", and especially the urgent pace of "Niejasnosci" are unquestionably and completely original.
The torch song "Love Me" was previously featured on the internet-only EP Pilot, and "Challenger" was first recorded on the now out of print King of Rats demo. I can't help but prefer the original bare bones version of the latter for sentimental value, but this revamped arrangement is certainly interesting.
"Kara Niny" is the stand out track for me. I love the big band brass flourishes, as well as the ebb and flow of the central melody. Another stunner is "Lady Celeste", which is driven by an absolutely gorgeous violin.
"Propaganda" marries foreboding metal guitar and militant drums to pretty piano and angelic backing vocals, reminding us of Gaba's fondness for Iron Maiden. A surprising, gentle splash of bossa nova follows in "Bosso", and the album ends with the sultry piano blues-rock number "Over".
Gaba Kulka – Niejasnosci (mp3 expired) *
*mp3 posted w/ permission of the artist
Gaba's fanbase in Poland seems to be growing rapidly, and I've been waiting patiently for the rest of the world to discover her music.
Buy @ Amazon
Gaba Kulka Official Site
Gaba Kulka MySpace