Manchester Orchestra is an Atlanta, Georgia band, and their sophomore release Mean Everything To Nothing is a refreshing chunk of rock. The band has toured with Kings of Leon, Clap Your Hands Say Yeah, and Black Rebel Motorcycle Club, and their music has been featured on Gossip Girl and One Tree Hill.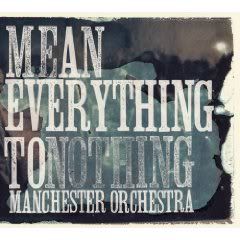 Finally some real rock. The main reason I don't warm to so-called "indie-rock" (which I refer to as "mouse rock", since Modest Mouse seem to start the trend) is what seems to me to be a lack of passion in their vocals and/or instrumentation. But Manchester Orchestra's sound is anything but passionless. These guys know what electric guitars are for, and lead singer Andy Hull isn't shy about screaming.
It probably helps that they recorded the album live, so it sounds as raw and driven as a concert performance. The lads name Nirvana and Foo Fighters among their influences and – though they may not live up to such grandiose comparisons – they certainly follow in those tangible, authentic rock footsteps.
Hull's vocals are uncharacteristically restrained in the catchy pop-rock melody of "The Only One", but the multi-layered arrangement keeps the track buoyant. The stunner "Shake It Out" revs the guitars and we hear the first glimmer of desperation in Hull's voice. The song soars in the second half, and the band tightens the instrumental tension as Andy unleashes a series of wails. I imagine it's a spectacular event to witness in person.
The sprawling piano and moody vocals of "I've Got Friends" and the brief, anguished cries of "100 Dollars" may appeal to My Chemical Romance fans. But the lurching, thunderous stomp of "Pride" lies in the deliciously dark ravine of Black Sabbath.
The first six songs are said to address teenage angst and the disillusionment that comes with aging, while the latter half of the album drifts into themes of redemption and acceptance. It surely says something about my own level of maturity that I prefer the first loud half of the album. The somber ballads – such as "I Can Feel A Hot One" (featured on Gossip Girl) – that close the album sound a little too much like Bright Eyes for my taste, but there's certainly merit in the entire song cycle.
Manchester Orchestra – The Only One (mp3 expired) *
*mp3 posted w/ permission of Columbia Records
Manchester Orchestra Official Site
Buy @ Amazon