I hope to publish some album reviews soon, but in the meantime wanted to mention a couple of things (other than my Lost DVD
marathan) that cheered me up during what has been a very difficult time: starting with Pixar's new animated 3D movie Up!.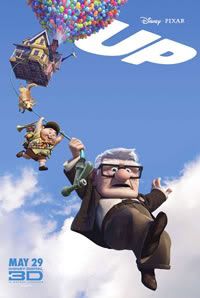 Up! was my first 3D movie experience and I loved it! It was The Wizard of Oz
awesome. This isn't just a cartoon for kids. There's an entire prequel – an epic, heartwarming, heartbreaking romance – in the opening sequence alone, and that's before the central plot is even introduced.
My only real gripe about the film is that it was a little too long – and I say this only because the silly animal characters in the middle of the story detracted from the the poignancy that bookended the movie…and also because the non-action scenes were kinda blurry due to the 3D effects. Yet I still think it's worth seeing in 3D just for the scenes of the house and balloons, which were spectacular.
Otherwise, the film was charming, funny, pretty, uplifting (no pun intended), and unexpectedly emotional. Michael Giacchino's score
was also very nice. I'm not including plot details because I think it'll be more enjoyable as a surprise. I usually try to avoid revealing personal details on this site, but I will say that my family suffered a big loss last week and seeing Up this week was just what we needed.
What's been entertaining you lately?