Chicken Ain't Chicken is the debut full-length album by Sweetback Sisters, and it will be released on June 30th. It can only be called a country album, though there are definitely elements of folk, jazz, and even funk thrown in. The strength lies the honeyed harmony of the gals and the twang-blues ruckus of certain songs, but the weakness seems to be found in songs that get a little too quirky for their own good.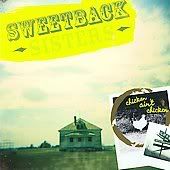 The first portion of the album is charming and captivating, starting with the jaunty Western swing of "Cowboy Girl" – which has a surprising and brief burst of male opera vocals that reminds me of Joss Whedon's "Grr Argh" logo. The pretty ballad "Virginia" follows, then there's a funky cover of Roger Miller's "My Uncle Used To Love Me But She Died".
Unfortunately, something about the songs in the middle just started to irk me. At first I thought it was simply that I've burned myself out on country and folk (I've been listening to more rock lately), but I love the last few songs so I don't know…even on repeated listens tracks 4-11 just grated on my nerves.
But then the sweet vocal harmony of "The Sweetest Gift" and the hyper honky tonk finale "You're Gone Again" won me back over. So I can't say I like the entire album, but I adore the songs that bookend it.
Sweetback Sisters – Cowboy Girl (mp3 removed)
Sweetback Sisters Official Site
Buy @ Amazon