Ice-9 Ballads is the new soundtrack to Kurt Vonnegut's classic novel Cat's Cradle
. A 1997 collaboration between the late, great author Vonnegut and composer Dave Soldier, the album features nine tracks that were directly inspired by the book. I didn't know quite what to expect when I first received it, but I can't imagine a more perfect score for my favorite novel of all time.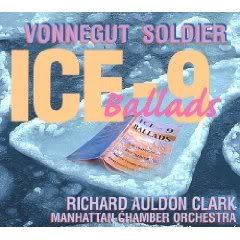 Kurt Vonnegut adapted the lyrics himself from his novel Cat's Cradle, and named the songs after chapter titles in the book. Dave Soldier composed and arranged the melodies, which capture the delightfully bizarre mood of the novel. The songs are fleshed out beautifully by The Manhattan Chamber Orchestra, Tiye' Giraud, Jimmy Justice, and Valarie Naranjo on the African balaphone.
"Annihilation Life" opens in a mellow, old-fashioned blend of bluegrass, jazz, and classical styles akin to Pianafiddle. "Dyot Meet Mat" follows with a buoyant, chiming Caribbean vibe.
Vonnegut narrates several songs in a cool, spoken word manner reminiscent of William S. Burroughs. This vocal style is particularly used well in the standout track "Nice, Nice, Very Nice", the lyrics of which were culled from Bokonon's "Fifty-third Calypso" in Cat's Cradle. The song swirls and chirps like a psychedelic Talking Heads number accented with dramatic orchestration and a choir of female voices that remind me of Cibo Matto.
"Duo for Clarinet & Meade Lux Lewis" returns to the vintage style of the opener with a splash of classic piano blues, then "14th Calypso" stirs a light hint of Gospel into Island instrumentation.
Also included on the disc is "A Soldier's Story", which was recorded in the style of a 1940s radio broadcast. The song is based on a text by Vonnegut that was inspired by the death of Private Eddie Slovik, the only American soldier to be executed for cowardice during World War II. Vonnegut voices the General in the piece, which again features music composed by Dave Soldier. DJ Phil Schaap fittingly plays "The Radio Announcer", Dina Emerson is "The Red Cross Girl", Wilbur Pauley is "The MP", and Brad Hougham portrays "The Soldier."
"East St. Louis, 1968" closes the album with the tale of a young viola player's first trip to the city. But it is undoubtedly the first literature-inspired portion of the disc that will certainly push it toward the top of my end of year list.
Kurt Vonnegut & Dave Soldier – Dyot Meet Mat (mp3) *
Kurt Vonnegut & Dave Soldier – Duo for Clarinet & Meade Lux Lewis (mp3) *
*mp3s hosted by Mulatta Records
Buy @ Amazon