Paris to Cuba is the new release from Oscar winning composer Mario Grigorov. As the album's title suggests, these rhythmic instrumentals and chanteuse vocal numbers blend energetic Cuban instrumentation with romantic elements of classic French music.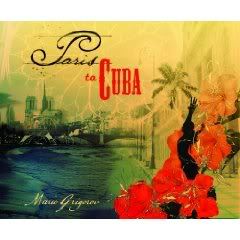 Latin guitar rhythms are burnished with robust but unobtrusive trumpet in the instrumental opener "Cuban Soil, Cuban Sun".
Singer Melissa Newman's mellow croon joins Grigorov's piano and Sam Newsome's soprano sax to add a Parisian flare to the Cuban percussion of "I See". Newman also sings "Every Little Movement" and "Snake Eyes".
The standout track is "Ice Hotel", in which Lynchian guitar snakes through a sultry brass arrangment. Grigorov plays a second, sparse piano version of the song at the end of the album.
Also of note is the twirling, twinkling delight "Magic Circus", and the atmospheric "Three Dozen Roses" closes this lovely and unusual collection.
Buy @ Amazon