Samantha Harvey's mysterious and memorable novel The Wilderness delves inside the troubled, unraveling mind of Jacob, an elderly man in the early stages of Alzheimer's. After reading a favorable review of the book (alas, I can't recall where), I scoured the bookshops of Dublin during my recent visit to Ireland and found a lovely hardback edition at Chapters on Parnell Street. The novel was just what I hoped it would be – so well written that the sadness of its subject was perfectly balanced by the beauty of the text.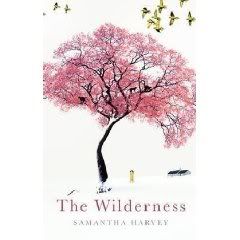 "In amongst a sea of events and names that have been forgotten, there are a number of episodes that float with striking buoyancy to the surface. There is no sensible order to them, nor connection between them. He keeps his eye on the ground below him, strange since once he would have turned his attention to the horizon or the sky above, relishing the sheer size of it all. Now he seeks out miniatures with the hope of finding comfort in them: the buildings three thousand feet below, the moors so black and flat that they defy perspective, the prison and grounds, men running in ellipses around a track, the stain of suburbia."
Rather than disclose her protagonist's history and current circumstances in a straightforward manner, Harvey chose instead to reveal random, dreamlike sequences of Jacob's life through the distorted memories and distraught imaginings conjured by his illness. These autobiographical fragments become increasingly erratic and intertwined as his mental powers deteriorate.
This technique could easily have resulted in an annoying, confused jumble. But Harvey's beautiful, intelligent prose weaves the frayed threads of Jacob's turbulent life and decaying mind together to create a magnificent tapestry of tragedy and hope.
Buy @ Amazon