Six-piece vocal ensemble Sonos perform a cappella covers of songs by popular indie artists. But this is no bland choir. Thanks to the presence of human beatbox Ben McLain and the innovative way their male and female harmonies are arranged, their covers are often more interesting than the originals. I was introduced to the group last April when they performed live at Mountain Stage. Their debut full-length SonoSings will be released by Verve Records on September 15th.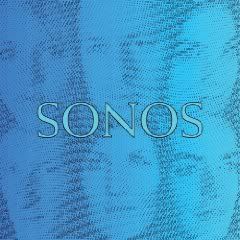 The album quietly begins with the Bon Iver cover "Re: Stacks." I think a stronger song may have been a better choice for the opener. But whether humming in such hushed tones or belting to the rafters as in latter tracks, there's an elegance to each note the sextet sings.
The cool, vibrating rendition of Radiohead's "Everything In Its Right Place" that follows is more impressive, and Sara Bareilles herself joins Sonos for a rhythmic a capella recording of her song "Gravity." I personally prefer both of these covers over the originals.
However, the studio version of "Again and Again" (originally by The Bird & The Bee) doesn't translate as well as it did in their live performance. Sadly, this is somewhat true of the album in general. The fault obviously lies in the smooth production, which dampens the dynamics of the individual vocals. I know from hearing them sing unaccompanied in concert that these six voices need no such help or effects.
Still, the studio polish is only a minor irritation in most cases. The delicately atmospheric takes on Imogen Heap's "Come Here Boy" and Bjork's "Joga" are much more successful.
Sonos save their most stunning cover for last. To say their vocals on Fleet Foxes' "White Winter Hymnal" are gorgeous and chill-producing may be cliché, but it's true.
Sonos – Everything In Its Right Place (mp3 expired) *
*mp3 posted for a limited time w/ permission of ThinkPress PR on behalf of Verve Records
Buy @ Amazon