The Dead Weather is led by – or divided between – Alison Mosshart of The Kills and Jack White of The White Stripes and The Raconteurs. Like the band, their debut Horehound seems somewhat split in two. Most of the album is fantastic, but a portion of it is (to put it mildly) an acquired taste. The band also includes other members of The Raconteurs and Queens Of The Stone Age. White produced the album and released it on his label Third Man Records.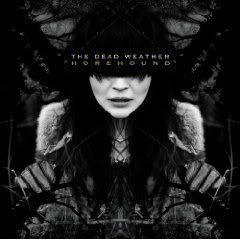 I'll get the negative out of the way. The tracks on which White's vocal presence is most prominent weigh down what is otherwise a solid rock album. "I Cut Like A Buffalo" in particular sounds a lot like his screeching Bond theme duet with Alicia Keys. The exception is the bluesier "So Far From Your Weapon."
Fortunately, the rest of Horehound is really quite good, especially when Allison Mosshart is allowed to growl and wail on her own. The loud, noisy style of Mosshart's own band The Kills is obviously an influence, but there are also hints of PJ Harvey ("60 Feet Tall") or a deranged Missing Persons ("Hang You From The Heavens").
The Dead Weather – Hang You From The Heavens (mp3 removed) *
*mp3 posted for limited time w/ permission of Filter Magazine on behalf of Warner Records
Buy @ Amazon
The Dead Weather Official Site