Hem's new album Twelfth Night was just released today. I was excited to hear the new material since their previous album Funnel Cloud was #2 on my 2006 Top Albums List. But Hem fans expecting another pretty, folk-country song collection may be surprised by the band's new original score for The Public Theater's Shakespeare in the Park production of Twelfth Night. The band livens up the genteel Medieval folk sound of The Bard's era with a unique blend of Celtic, folk, and soft pop. Actress Anne Hathaway and singer Audra McDonald are among the album's guest vocalists.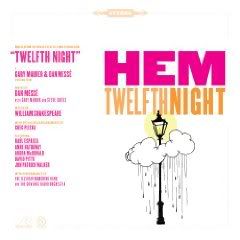 The more spirited reels, such as the traditional "Black Thorn Stick" and "The Rose in the Heather," spin elements of Irish and Scottish music. And "The Funeral," written by Hem's own Dan Messe, is pure Celtic dirge.
Anne Hathaway's dulcet voice breathes through "Take, O Take Those Lips Away," and she duets with singer Audra McDonald on the beautiful ballad "Full Phathom Five." The latter features lyrics culled from The Tempest.
Dave Pittu sings the part of an Elizabethan minstrel in "O Mistress Mine," and joins Hathaway and Raul Esparza for "Come Away Death." Elsewhere, a lilting flute carries the instrumental "To the Gates of Tartar."
My only complaints about the album are the lack of vocals by Hem singer Sally Ellyson and the brevity of the songs due to the nature of the theatrical production.
I was not granted permission to share an mp3, but you can hear samples at the links below.
Buy @ Amazon