Before Jerry Maguire put Renée Zellweger on the Hollywood map and before Vincent D'Onofrio became Detective Gorem on Law & Order: Criminal Intent, the two starred in one of my favorite films of all time: The Whole Wide World. Based on Novalyne Price's memoir One Who Walked Alone
, the film depicts Price's tumultuous relationship with infamous 1930s pulp-fiction writer Robert E. Howard.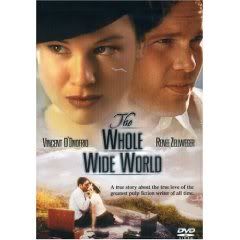 This simple but powerful true life romance was beautifully directed by Dan Ireland, and features some breathtaking cinematography of the Texas landscapes and sunsets that surrounded the filming location.
If you dislike post-Bridget Jones Renée Zellweger, don't let that prevent you from seeing this remarkable film. The young, mostly unknown, brunette Zellweger was charming and fiesty as aspiring writer/teacher Novalyne Price.
And if you're at all familiar with Vincent D'Onofrio's work, you won't be surprised to know that his dynamic, volatile portrayal of the artistic and often tormented "Conan the Barbarian" creator Robert E. Howard steals every scene he was in.
The Whole Wide World has been referred to as "an unrequited love story," but I think that's an inaccurate description of the intense emotional bond that existed between Price and Howard…or at least the bond between their fictional counterparts. I always though D'Onofrio's Robert was very much in love with Novalyne, he just didn't think he deserved her love due to his distorted view of himself.
Rewatching the not so happy ending, I can't explain why I always think of this as a love story. Perhaps it's simply the beauty of the film as a whole or the chemistry between the actors. Either way, I love it and think it deserved far more praise and attention than it ever received.
The DVD contains commentary by the director and Vincent D'Onofrio, as well as a recent interview with Renée Zellweger about the movie. The film also features a lovely soundtrack
courtesy of composers Hans Zimmer and Harry Gregson-Williams.
Buy DVD @ Amazon