Go Easy Little Doves is the sophomore album from Nashville singer-songwriter Brooke Waggoner. Brooke self-produced the album, which features twelve songs she wrote over the span of a decade. The lengthy creative time certainly paid off, resulting in an unusually beautiful artistic work.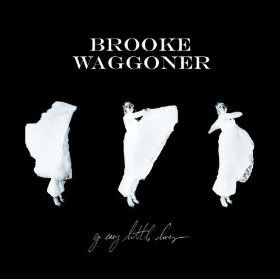 The album opens with two instrumentals – "Query" and "Ruminate" – before melting into the title track.
"Go Easy Little Doves, I'll Be Fine" gracefully glides through gentle verses and a haunting string-accented chorus with echoing vocals. The song falls somewhere between Kate Bush and Fleetwood Mac, and I love it.
The title of the delicate "Meek, Wild" aptly describes the entire album. Brooke's voice is often a quiet hush, yet there's a fierceness to it.
"Femmes" is a great example of this juxtaposition of softness and ferocity, combining Bat For Lashes tribal beats with Medieaval Baebes chants.
Other songs, such as "Find Her Floods" and "Wish for Bridges," layer Brooke's ethereal voice over serene string arrangements. The sprawling piano and Julee Cruise crooning of "Body" would've fit perfectly in an episode of Twin Peaks.
Brooke will perform live at Mountain Stage on February 7th, along with Juliana Hatfield, The Watson Twins, Dashboard Confessional, and Clare & The Reasons. I think it'll be a great show.
I was not granted permission to share an mp3, but you can hear samples at the links below.
Buy @ Amazon