Eric Bibb's new album Booker's Guitar, a tribute to Delta blues guitarist Booker White, will be released on January 26th. I was privileged enough to hear a small preview of Bibb's new disc when I saw him play at Mountain Stage last year, and I'm happy to say the album lives up to that performance.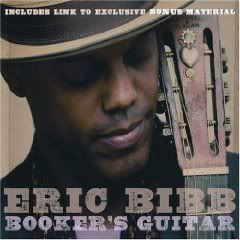 The title track softly opens Booker's Guitar with the true story of how a fan brought Bibb a vintage steel-body guitar that once belonged to legendary bluesman Booker White. That guitar was what first inspired Bibb to record these songs.
It's the pure Delta blues number "With My Maker I Am One" that really revs up the album. The rest of the disc follows that gorgeous traditional blues path, to which Eric Bibb's rich voice is perfectly suited.
The liner notes include brief descriptions by Bibb of the stories behind each track. I was surprised to find that, with two exceptions, Bibb wrote all of the songs. He so flawlessly captures the sound of vintage blues that I thought it was a cover album.
The album's only two covers are the traditional "Wayfaring Stranger" and Blind Willie Johnson's "Nobody's Fault But Mine," in which Grant Dermody's harmonica steals spotlight. As I've said before, "Wayfaring Stranger" is an easy song for just about any singer to do well. But Bibb's heartfelt croon is definitely one of the best renditions I've ever heard.
Bibb calls his own "One Soul to Save," which was partly inspired by James McBride's novel Song Yet Sung
, a sequel to "Nobody's Fault But Mine." And "New Home" is a mellowly optimistic tune about a 1930s laborer with big dreams.
The somber "Flood Waters" was written about the great Mississippi flood of 1927, but it's impossible not to think of Hurricane Katrina while listening to it.
"Turning Pages" is a wonderful theme song for bookworms like me. Bibb sings about his lifelong love of reading and mentions some of his favorite authors. Nancy Drew and Shakespeare set to the blues, no wonder I love this guy!
Eric Bibb – With My Maker I Am One (mp3 expired) *
*mp3 provided by & posted w/ permission of Telarc Records on behalf of Concord Music Group
Buy @ Amazon