If Moreland & Arbuckle's upcoming album Flood is any indication, 2010 is gonna be a great year for music. Guitarist Aaron Moreland and singer-harpist Dustin Arbuckle have been making music together for nearly a decade, and their playing has the ease and cohesion that only such longtime familiarity could produce. The blues duo will release Flood on February 23, 2010, and this mix of Delta blues, folk, country, soul, and rock is one wild ride.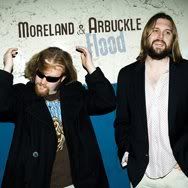 From the opening barnburner "Hate to See You Go (Little Water)" to the naughty blues swagger of "Don't Wake Me", Flood is overflowing with searing blues-rock numbers. The highlight of these is a blistering live cover of the traditional "Legend of John Henry."
"18 Counties" has a more soulful simmer, and "Your Man Won't Ever Know" falls back into deep, sultry classic blues. The album closes with "Can't Get Clear," which takes the banjo back to its blues roots.
Moreland & Arbuckle – Legend of John Henry (live) (mp3) *
*mp3 provided by & posted w/ permission of Telarc Records on behalf of Concord Music Group
Pre-order @ Amazon
(not yet available)
Moreland & Arbuckle Official Site
Moreland & Arbuckle MySpace