Anaïs Mitchell is already known as a phenomenal singer-songwriter, but now she has proven herself to be a brilliant poet and playwright with her new album Hadestown. This studio recording of Mitchell's "folk opera" will be released on March 9th by Righteous Babe Records, and features such well known guest vocalists as Ani Difranco, Greg Brown, Petra Haden, Bon Iver, and Ben Knox Milller of The Low Anthem. In Hadestown, Anaïs transforms the ancient Greek myth of Orpheus and Eurydice into a post-apocalyptic American fable with Depression era style and indie-folk sensibility. This gorgeous, exciting project reminds me why I love music so much and why I love writing about music so much.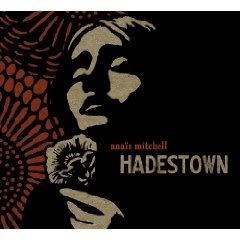 the enemy is poverty and the wall keeps out the enemy
that's why we build the wall, we build the wall to keep us free
I should preface this review by saying that Hadestown should not be avoided if you dislike musicals or concept albums. I know many people were turned off by The Decemberist's Hazards of Love since the tracks were difficult to listen to individually. But the songs of Hadestown stand strong on their own and together make a magnificent album. It is what I would imagine Les Misérables might have sounded like if it had been written by Woody Guthrie.
The underworld in Hadestown is a corrupt company town with a gold mine. Surrounded by a country sunk deep into financial crisis, the inhabitants of Hadestown have been tricked into viewing their walled city as a safe haven. The common people mindlessly follow their oppressive ruler Hades out of fear and greed, trading their freedom for a false sense of security.
Anaïs uses this as the setting for a retelling of the Orpheus and Eurydice myth, in which a devoted musician travels to the underworld to retrieve his dead bride.
Anaïs Mitchell originally wrote the stage musical in collaboration with director Ben Matchstick and orchestrator Michael Chorney, and the folk opera was performed in Vermont in 2006 before going on tour throughout New England. When it came time to record the album, Anaïs reworked many of the songs and put together a new cast of indie stars Ani Difranco, Bon Iver, Petra Haden, and The Low Anthem's Ben Knox Milller, as well as folk favorite Greg Brown.
I was initially disappointed that Anaïs didn't choose to sing every song herself. I adored her simple, heartfelt solo interpretation of "Hades and Persephone" on The Brightness and the haunting rendition of "Why We Build The Wall" she performed when I saw her live at Mountain Stage two years ago.
The thought of Greg Brown's presence in particular made me cringe. Enduring two painful Mountain Stage performances by Brown had put him on my "things I intensely dislike" list somewhere between Taylor Swift and Dane Cook.
I also thought Bon Iver had been horribly miscast as Orpheus. The mythical Orpheus was supposed to be such a supernaturally gifted musician that even nature and inanimate objects fell under the spell of his voice and lyre. I felt that kind of character really called for stronger pipes than Bon Iver's mellow voice.
However, listening to the album erased all of the disappointments and pre-conceptions I had. I still would have liked a bonus disc of Anaïs performing the songs alone. But in the context of the Hadestown story, every casting choice makes perfect sense and Anaïs has made me love Greg Brown and Bon Iver with the substantial material she gave them to sing.
Bon Iver (credited as Justin Vernon) plays an optimistic, boyish Orpheus. The album opens with "Wedding Song", a duet between Orpheus and his new bride Eurydice – portrayed here beautifully in the sweet tones of Anaïs Mitchell.
The barking of stray dogs and a lone harmonica herald in the dazzling "Way Down in Hadestown." The Low Anthem's Ben Knox Milller (as messenger Hermes) leads Bon Iver, Ani Difranco, Anaïs Mitchell, and a chorus of former Hadestown cast members in a sing-a-long propelled by Tin Pan Alley instrumentation. It only took one listen and I was singing along. This song belongs on Broadway.
"Hey, Little Songbird" finds the dulcet tones of Eurydice tangling with the sinister, seductive growl of Hades. Greg Brown's Hades is all jaded, bitter, gristled blues, and his voice has never sounded better. The deep gravel of his throat is especially effective in the xenophobic anthem "Why We Build The Wall," in which Hades and his brainwashed "children" engage in a call-and-response recitation of the wall's chilling purpose.
Vernon's Orpheus has taken on a melancholy tone as he follows Hermes' whispered directions to the underworld in "Wait For Me," and seems to consider abandoning his quest before regaining his courage in "If It's True."
There are no innocent victims in Hadestown. Eurydice and Persephone are traditionally viewed as chaste maidens who are held hostage by evil Hades, but these musical counterparts seem to have brought themselves to the underworld with their own moral weaknesses.
Eurydice pines for her lost love and former life in "Gone, I'm Gone" and "Flowers (Eurydice's Song)," while The Fates (Petra Haden and her sisters – billled as The Haden Triplets) slide in to taunt her with menacing Andrews Sisters croons on "When The Chips Are Down" and "Nothing Changes."
Ani Difranco's rich inflections add a new dimension to the character of Persephone. "Our Lady of the Underground" has a Mae West swagger and runs a subversive speakeasy in her infamous husband's murky world.
In the original myth, not even the cold heart of Hades can resist the beauty of Orpheus' music, and so he is granted permission to bring Eurydice back to the world of the living. In Hadestown, however, it's the persuasion of Persephone that convinces the dark king to release the two young lovers.
Ani Difranco and Greg Brown give the most emotional vocal performances of their respective careers in their duet of "How Long?" – a revamped version of "Hades and Persephone." As much as I loved Anaïs' original recording, Difranco and Brown truly bring the characters of Hades and Persephone to life as they argue over the fate of Orpheus and Eurydice.
Hades contemplates the effect his compromise might have on the power he holds over his kingdom in "His Kiss The Riot," but in the end allows the young couple to escape on the sole condition that Orpheus not look back at Eurydice on the way out.
"Doubt Comes In" as Hades predicts when Orpheus is unable to keep his eyes off his beloved for the entire journey for fear she has fallen behind. As a result of his doubt, she is pulled back into the underworld and he loses her forever.
The tragic tale ends with the lament "I Raise My Cup To Him," a lovely duet between Anaïs Mitchell and Ani Difranco as Eurydice and Persephone.
There are several videos on YouTube from the original Hadestown productions, and you can hear Anaïs Mitchell's performance at Mountain Stage of "Why We Build The Wall" at NPR.
Anaïs Mitchell – Flowers (mp3) *
Anaïs Mitchell – Wait for Me (mp3) *
*mp3s hosted by & posted w/ permission of artist's PR rep Toolshed Media on behalf of Righteous Babe Records
Buy @ Amazon
Anaïs Mitchell Official Site
Hadestown MySpace