Adam is an unconventional love story about two strangers falling in love and experiencing some unique complications in their relationship. Written and directed by Max Mayer, Adam stars Hugh Dancy, Rose Byrne, Peter Gallagher, and Amy Irving.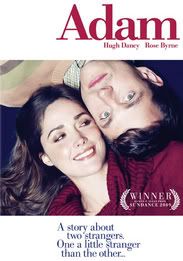 Rose Byrne plays school teacher and aspiring writer Beth, who has just moved into a new apartment building. Beth soon finds herself drawn to an extremely intelligent, but socially awkward neighbor named Adam (Hugh Dancy).
Both characters are lonely in their own way, and are struggling with different father issues. Adam is mourning the recent death of his father, while Beth's father is being charged with a white collar crime.
The main obstacle to this sweet romance comes when Adam explains the reason behind his seemingly odd behavior – he has Asperger's Syndrome.
The movie often takes a pretty, simplistic approach to the disorder, but certain scenes contain subtle glimpses into Adam's inner turmoil. The emotion on Hugh Dancy's face is enough to convey the anguish and frustration born from Adam's social limitations, and the anxiety and fear he suffers in the face of change. And the film doesn't shy away from Adam's ugly burst of anger or Rose's insulting reaction during a simple disagreement.
The muted colors and intimate direction add to the poignancy of the film. It may lack the style of (500) Days of Summer, but it makes up for it in substance.
I don't understand why Adam hasn't receiveed more attention. It pulls the heart strings as much as Romeo & Juliet, Titanic, and Jerry Maguire without any cringe-inducing melodrama.
And like all classic love stories, the two lovers are separated by both their own misgivings and the condemnation of family. The ending isn't quite what I would have liked, but it does fit with the rest of the story and allows the audience to draw their own conclusions.
Buy @ Amazon