Juliana Hatfield will release her eleventh solo album Peace & Love on February 16th on her own label, Ye Olde Records. The singer-songwriter with the angelic voice produced and engineered the album herself, and also played every instrument heard on this stripped down, mostly acoustic project.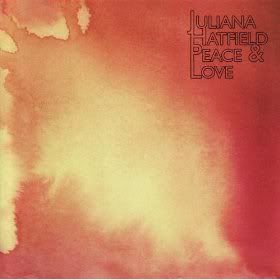 Recorded on her brother's eight-track digital recorder, Juliana delves into the most intimate and sparse of acoustics for most of Peace & Love. Sometimes this approach works very well, other times it results in disappointment.
The weaker tracks are "The End of War," "Why Can't We Love Each Other," and especially "Butterflies." Not that any of these songs are bad when taken individually, but the bare bones arrangements and sugary vocals get a little monotonous when listening to the album straight through.
Somehow, though, even the album's flaws make it more endearing, more human. And each song contains at least one lyric that resonates…
"You sent someone to fight for you, but no one fought for me"
"Our houses are not homes.
Why don't I ever see you, when you live just down the road?"
Initially I thought I would also include the album's title track in the weak list, but it turned out to be a grower. I suspect that's true of the entire recording.
Perhaps it's just that I love the overall concept of stripping everything away. I'm so sick of over-produced, Auto-Tune-abusing, pseudo artists. Even in it's most uneventful moments, Peace & Love is refreshing in its simplicity.
Things start picking up with a short electric guitar riff in "What Is Wrong," which helps to anchor Juliana's delicate, skyscraper soprano.
The highlight of the album is without a doubt the love song "Evan" – an ode to Juliana's ex, Evan Dando of the Lemonheads. Never has a post-breakup ballad sounded so sweet, humble, and heartfelt. It's possibly the most perfect, girlie love song ever written.
The romantically resigned refrain "Evan, I just love you, I guess" isn't exactly Shakespeare, but Juliana sings it with such sincere emotion that it feels like it is. The song also has the prettiest, most interesting instrumentation on the album.
The unrequited love pop ditty "Let's Go Home" and the my-man-done-me-wrong-but-I-got-friends anthem "Faith in Our Friends" are as upbeat as it gets here. Another highlight is "I'm Disappearing," which balances somber lyrics with a heavier arrangement.
The finale "Dear Anonymous" will connect with anyone who has ever received a nasty comment from some nameless internet troll, but the song takes a somewhat compassionate, turn the other cheek stance on the subject.
I'm very excited that Juliana will perform at Mountain Stage this Sunday, February 7th. And not just because she was in My So-Called Life.
Juliana Hatfield – Evan (mp3) *
*mp3 posted w/ permission of artist's PR rep
Buy @ Amazon
Juliana Hatfield Official Site
Juliana Hatfield My Space