Thanks to the Oscar nomination of star Jeff Bridges, Crazy Heart finally opened in my local cinema last week. I wrote the following review after seeing the film Friday night, and I'm happy to report Jeff Bridges won the Best Actor award at last night's Oscars. Based on Thomas Cobb's novel and directed by Scott Cooper, the film adaption of Crazy Heart was even better than I expected. And The Dude most definitely deserved the Academy Award.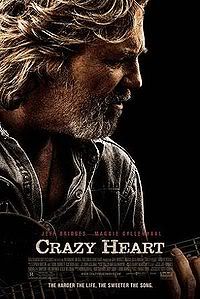 Jeff Bridges brilliantly portrays formerly successful country singer-songwriter Bad Blake, who is now a middle-aged, alcoholic, dive bar (and occasional bowling alley) performer. His classic country songs are better known now as covered by his young country superstar protégé Tommy Sweet – played by an uncredited Colin Farrell.
Bad seems to have accepted his fate as a washed up hasbeen destined to end his days crawling from one bad gig to the next with his only pleasure being found in a whiskey bottle. But things change when he falls for a young, openhearted music journalist named Jane (the incomparable Maggie Gyllenhaal).
Gyllenhaal is impressive as single mother Jane, who struggles to balance the responsibilities and fears she feels for her young son against the dreams and desires she experiences with Bad Blake.
The movie's soundtrack features classic country tunes and new, original music by T Bone Burnett. It was Burnett's creative involvement in the film that ultimately convinced Bridges to accept the role.
The combination of Burnett's substantial Western compositions and Bridges' gritty vocals results in songs that sound as authentic as if they'd been recorded by The Highwaymen themselves.
Speaking of which, Bridges' grandly natural performance of Bad Blake seems to blend elements of "Outlaw" country stars Kris Kristofferson, Merle Haggard, and Waylon Jennings. And of course, The Dude.
Buy @ Amazon (not yet available)