Reverend Peyton's Big Damn Band will release their new album The Wages on May 25th. The band's debut Big Damn Nation was one of my Top Albums of 2006, and their previous release The Whole Fam Damnily was my #1 Album of 2008 and my #9 Album of the Decade. I'm happy to say the Big Damn Band's upcoming third album doesn't fail to live up to their extraordinary past.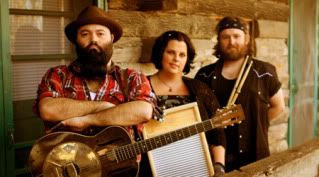 If you're not already familiar with Reverend Peyton's Big Damn Band, they are the trio of Reverend Peyton on vocals and bottleneck guitar, his washboard playin' wife, and his cousin the drummer. The three make more noise than a punk band with their rocked up blend of Appalachian folk and swamp blues.
The Wages was recorded live in the studio on analog tape with no overdubs. The first thing I noticed is that the harmony vocals of Mrs. Peyton (a.k.a. "Washboard Breezy") are far more audible here than on the band's previous releases.
The first two tracks don't really grab my attention like previous albums, but the third song "Clap Your Hands" lights the match and it's not long before the whole barn is burnin' down.
"Everything's Raising" is the follow up to The Whole Fam Damnily's "Can't Pay The Bill." The lyrics – which give the album its title – address the growing discrepancy between the high cost of living in the U.S. and the nation's stagnant wages.
"What Go Around Come Around" is a hillbilly karmic anthem with its "didn't your mama raise you better?" refrain, and "Sugar Creek" is a country love song.
"In a Holler Over There" is an ode to the failing family farm with a brief look at the rise of backwoods meth labs.
The trio does an impressive job of mimicking a locomotive with their instruments in "That Train Song," and "Just Getting By" is another tribute to poor folk living paycheck to paycheck.
The album also includes the frenetic title track from Two Bottles of Wine, Reverend Peyton' 2007 collaboration with Jason Webley.
Once again I am amazed by and grateful for the way this band so perfectly captures the terrible struggles, somewhat comical frustrations, and also the simply joys of rural American life. And they do so with music that is loud and entertaining enough to have earned them a spot on this year's entire Warped Tour.
I was not granted permission to share an mp3, but you can stream two songs from the album at their label's site.
The album is not yet available for purchase, but will be at the links below in May…
Buy @ Amazon
Reverend Peyton's Big Damn Band Official Site