Singer-songwriter and didgeridoo virtuoso Xavier Rudd will release his new album Koonyum Sun on April 19th. As I said when I first posted the download link for "Love Comes and Goes" back in February, "with the exception of Hadestown and Allison Crowe's upcoming Spiral, Xavier's Koonyum Sun is my most anticipated album of 2010." Until recently, I said that Xavier Rudd was my favorite contemporary male artist. After hearing this new album and thinking about his entire catalogue (two of his releases were on my Best of the Decade list), I must revise that statement. Xavier Rudd is my favorite artist, full stop.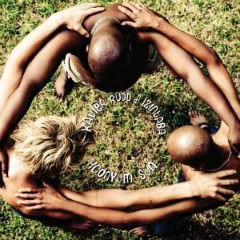 The opener "Sky to Ground" initially seems to scale back to the simpler acoustics of Xavier's earlier works, but the song soon bursts into a rock guitar riff recalling the harder sound of Dark Shades of Blue. The Koonyum Soon album as a whole is a beautiful, atmospheric marriage of these two distinct styles.
Many of the tracks – such as "Set Me Free," the harmonica accented "Fresh Green Freedom," and psychedelic folk-rock number "Bleed" – combine rock guitar thunder with haunting tribal percussion and chants. Weaved throughout are Xavier's signature mellow acoustics, multi-faceted voice, and environmentally conscious lyrics.
The soft arrangement of "Love Comes & Goes" is certainly a familiar style for Xavier, but the post-breakup lyrical content is something very new for him. Xavier's site says 2009 was "a tumultuous year" for him, and lyrics like "no other pain like losing a soulmate" and "picking up the pieces of a broken nest" indicate this song was inspired by the loss of a relationship. Whatever his motivation, Xavier has written the perfect anthem for the brokenhearted.
In contrast, the plucky buoyancy of "Time to Smile" seems to illustrate the joy Xavier feels when performing with his new band Izintaba. Izintaba is a new trio Xavier formed with South African bassist Tio Moloantoa and drummer Andile Nqubezelo, with whom Xavier says he shares an "an undeniable connection – musically, spiritually, and emotionally."
With the exception of the finale "Badimo," Xavier's trademark didgeridoo is conspicuously absent this time around. It's occasionally used to add texture to the percussion on other songs, but you have to listen very attentively to hear it. I do miss the deep sound of that unique instrument, but otherwise Koonyum Soon is yet another breathtaking masterpiece that's sure to land Xavier Rudd at the top of my year end list again.
Xavier's website is offering a free, legal m4a download of the new song "Love Comes and Goes" to anyone who signs up for his official email list at the following link:
Xavier Rudd – Love Comes and Goes (download page) *
*link provided by artist's official newsletter, you must sign up w/ an email address to access the download.
Buy @ Amazon