Yes, Florence + The Machine's debut Lungs should have been on my Top 2009 albums list, but I didn't get the CD until this year. I did hear "Kiss With a Fist" when Lungs was first released last year and added the album to my ridiculously long wishlist, but I now know that shiny pop single didn't do the rest of this deliciously multi-layered album justice. I've been meaning to post about the album for months, but I've had so much fun listening to it in my car and chatting about it to my friends that I forgot to write the review. So here ya go…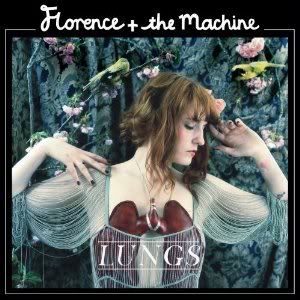 this is a gift, it comes with a price
who is the lamb and who is the knife?
Midas is king and he holds me so tight
and turns me to gold in the sunlight
Florence + The Machine's music weaves the melodic pop breeze of Venus Hum into the theatrical drama of Bat For Lashes, all anchored by the soulful bombast of British singer Florence Welsh's substantial voice. Florence's dark epics have been accurately compared to everyone from Kate Bush to Nick Cave, but it's her wild wails that set her own eccentric songs apart.
My favorite songs from the album are the more atmospheric and monumental tracks like the absolutely addictive "Drumming Song," the fantastical "Rabbit Heart (Raise It Up)," and the eerie "My Boy Builds Coffins." But there are also plenty of upbeat pop numbers similar to "Kiss With a Fist" like the summery opener "Dog Days Are Over."
If you like one song, you will love the entire album. And if you don't like any of the songs, I question your taste in music!
I couldn't even get a review copy of this album, let alone obtain permission to post an mp3. But you can watch several videos and hear audio samples at the links below…
Florence + The Machine – Drumming Song (YouTube Video)
Florence + The Machine – Rabbit Heart (Raise It Up) (YouTube Video)
Florence + The Machine – Dog Days Are Over (YouTube Video)
Buy @ Amazon
(CD only $9.99!)
Florence + The Machine Official Site
Florence + The Machine MySpace