Heart returns on August 31st with Red Velvet Car, their first new studio album in six years. If you've never heard Heart's music or you've written them off as an '80s novelty act, I urge you to track down classic songs like "Barracuda," "Crazy on You," "Alone," "(Up On) Cherry Blossom Road," and pretty much the entire Dreamboat Annie
album. Then pre-order Red Velvet Car, because the Wilson sisters are back and stronger than ever.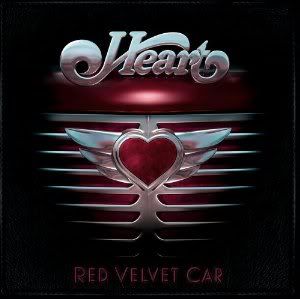 This time around Heart took a step back from the pop-rock endeavors of recent decades in favor of a multi-instrumental style. In addition to her signature guitar, Nancy Wilson and producer Ben Mink tried their hands at mandolin, dobro, banjo, fiddle, viola, cello and autoharp. The result is a tightly woven tapestry of hard rock riffs and multi-layered acoustics reminiscent of Heart's 1970s catalogue.
Written as a "cautionary tale for a young woman on the red carpet,", the opener "There You Go" makes fine use of the band's new multi-instrumental arsenal with a bluesy rumble and stomp.
"WTF" could use a better title, but otherwise the thunderous rock song is a perfect display of Ann's astounding vocal power and Nancy's searing guitar riffs. Then the title track stirs, slides, and retracts like a slinky Western sidewinder tempered with airy strings and acoustics.
The standout track "Wheels" simmers with a chasmic bass line and Ann's deep, echoing voice. Twenty years in the making, the song was well worth the wait.
When I read in the press release that producer Mink (who worked with Ann Wilson on her solo album Hope & Glory) asked Ann to "hold back" on her vocals, I was a little worried. Ann's unearthly howl has always been Heart's greatest strength. I would have liked to hear her wail a bit more on the new album, but overall I think the restraint worked well for this particular collection. Though I do hope the next release sets her mighty pipes loose again.
Nancy takes lead vocal on the pretty love song "Hey You" and again on the sultry ballad "Sunflower." I was surprised to learn that Nancy wrote the latter as an ode to her sister since it sounds like a summer of love anthem.
Most bands place their weakest tracks at the end of their albums, but Heart saves one of their best for the finale. "Sand" was originally recorded by the Wilson sisters as their late '90s acoustic incarnation The Lovemongers. The layering of Ann's robust vocals over a stripped down acoustic arrangement in this new version hints at Led Zeppelin's "Going To California." The Lovemongers' cover of Zep's "The Battle of Evermore" and Ann's solo take on "Immigrant Song" have obviously had a positive influence on Heart's own compositions.
The album isn't without its flaws, but they are few and far between. Red Velvet Car is Heart's most substantial and artistic effort since Dreamboat Annie
.
I was not granted permission to share an mp3, but you can hear samples at the links below.
Buy @ Amazon
Note: According to Heart's official site, you can receive $1 off your Amazon Pre-order by entering promo code REDCAR10.
(not yet available)