Helen Simonson's debut novel Major Pettigrew's Last Stand left me with the deep feeling of elation and satisfaction that only a truly great book can create. I can't remember the last time I fell so completely in a love with a character as I did with this novel's stuffy, utterly charming titular protagonist. Author Simonson has managed to write one of the sweetest, most heartwarming love stories I've ever read without ever falling into the trap of sappy sentimentality – all the while tastefully and humorously tackling such weighty issues as racism, nationalism, religion, family dramas, class distinctions, and the sharp difference in how various cultures can perceive a shared history.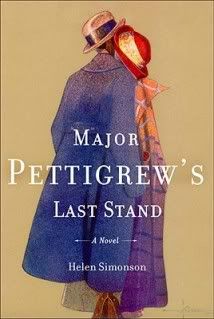 Set in the small, old-fashioned English village of Edgecombe St. Mary's, the story centers on aging widower Major Ernest Pettigrew. The Major is introduced as the epitome of traditional values and manners, who clings to the old ways of his village as much as he does to his father's two antique Churchill hunting rifles. Said rifles have been the objects of the Major's lifelong adoration and serve as the catalyst for a somewhat comical battle with his greedy relatives over his brother's estate.
When the Major strikes up a friendship with a widowed Pakistani shopkeeper and kindred bookworm named Mrs. Ali, he begins to see himself and his closeminded neighbors in a whole new light. The delicate, subtle romance that blossoms between the Major and Mrs. Ali grows into a middle-aged, multi-cultural Romeo & Juliet as they face the harsh criticism and prejudice of their respective friends and families, who disapprove of the couple's dissimilar skin colors, religions, and incomes.
A tense and emotional subplot regarding Mrs. Ali's nephew and her family's strict adherence to their religion adds to the forces separating our dignified and hesitant lovebirds, ultimately resulting in the novel's breathtakingly climatic scene.
Major Pettigrew's Last Stand will fit snuggly on any bookshelf filled with classics both old and new. And it would make a wonderful, sophisticated romantic comedy if ever it's turned into a film.
Buy @ Amazon