The Mountains & The Trees is the astonishingly talented singer-songwriter and multi-instrumentalist Jon Janes. His debut full-length album I Made This For You will be released on August 10th. Janes has a quiet but captivating voice, and he and his bandmates play just about every instrument imaginable – guitar, drums, banjo, mandolin, ukulele, bells, tuba, trumpet, organ, lapsteel, melodica, mellotron, violin, cello, flute, bodhrán, and even some handclaps. Janes skillfully incorporates all of these elements into beautifully, brilliantly arranged folk, country, and Americana melodies. I Made This For You is a multi-layered masterpiece that everyone needs to hear.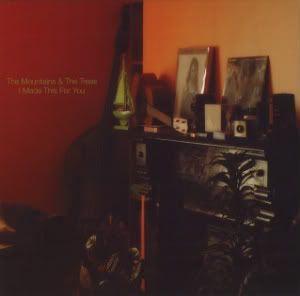 The opening track "Fear of Ghosts" slides from a gentle beginning into a jaunty, joyously multi-instrumental arrangement in which the tuba steals the show. Séan McCann of Great Big Sea plays bodhrán on the song.
"More & More & More" is a panoramic Americana travelogue, "Travellin' Song" is a foot tappin' country ditty, and "Makes Amends" is another wonderfully unusual standout.
Most of the rest of the album is delicate and lovely with subtle folk melodies and light bluegrass instrumentation.
The Mountains & The Trees – More & More & More (mp3)*
The Mountains & The Trees – Minimum Wage Lovers (mp3)*
Buy @ Amazon
(not yet available)
*mp3s hosted by & posted w/ permission of band's PR rep
The Mountains & The Trees MySpace