The Civil Wars' debut full-length album, Barton Hollow, will be released on February 1st and the band will perform live at Mountain Stage on February 13th. After hearing the new album, I expect it'll be a great concert. The Civil Wars are Nashville-based duo John Paul White and Joy Williams, whose influences include everyone from The Beach Boys to Johnny Cash. The music on Barton Hollow is a gorgeous, intimate blend of pretty pop melodies and sparsely atmospheric folk with an occassional punch of rowdy country-blues.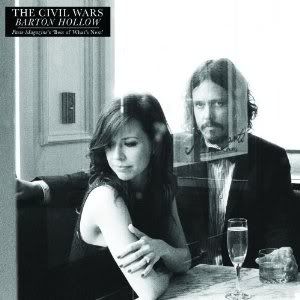 The first time around, Joy's honeyed soprano and the indie-pop style of certain tracks reminded me of a countrified Eisley or The Innocence Mission. However, subsequent listens focused my attention on the duo's haunting harmonies and the delicate folk instrumention intricately woven into each melody.
My favorite songs on the album are the haunting opener "20 years," the high energy title track and the lovely ballads "Poison & Wine" (recently featured on Grey's Anatomy) and "Falling."
Barton Hollow is one of those rare albums that should appeal to fans of pop, country, folk and the various "indie-" genres.
The Civil Wars – Barton Hollow (mp3)*
*mp3 hosted by & posted w/ permission of Toolshed PR on behalf of label
BUY @ AMAZON