Canadian folk master Bruce Cockburn will release Small Source of Comfort on March 8th. Inspired by his travels to everywhere from Brookyn and San Francisco to military bases in Afghanistan, Cockburn's thirty-first studio album has been called "a collection of songs of romance, protest and spiritual discovery." His trademark blend of rhythmic folk, jazz and rock is here mingled with elements of Celtic and Middle Eastern music.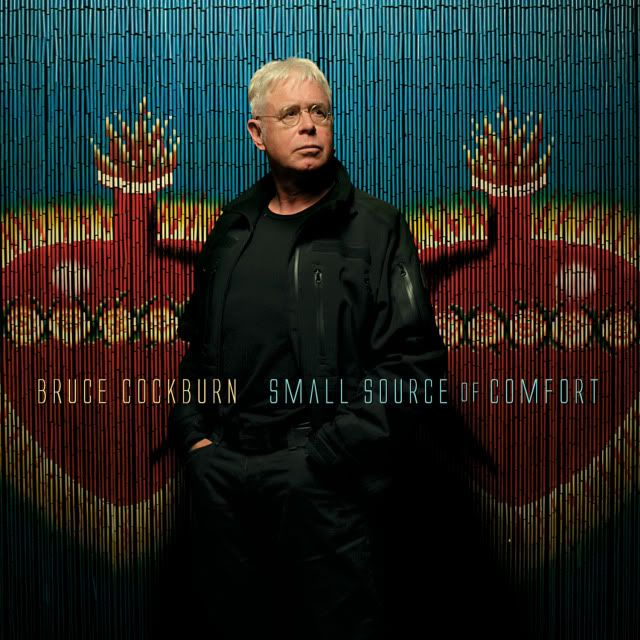 With lyrics like "passing through the iris of the world," Cockburn continues to be as much a poet as he is a musician. Haunting violin snakes through his signature folk pluck in the opener "Iris of the World."
"Call Me Rose" has a Dylanesque swagger and tells a bizarre story of reincarnation. The tune is sung from the perspective of former U.S. president Richard Nixon, who has been reborn as a poor single mother of two struggling to get by in a housing project.
Jaunty jazz meets bluegrass with what sounds like a splash of Celtic folk in "Lois on the Autobahn," one of several grand instrumentals on the album. "Comets of Kandahar," which Cockburn describes as "Django meets John Lee Hooker," is another noteworthy instrumental.
The bluesy hum and clang of "Five Fifty-One" is a standout, while the quiet ballad "Driving Away" gives Cockburn the opportunity to show off his crooning skills.
I was not granted permission to share an mp3, but you can hear samples at the links below…
Pre-order @ Amazon
Bruce Cockburn Official Site
Bruce Cockburn MySpace