Occasional Muruch writer Brendan was pulled out of the shadows again by the death of composer John Barry. I (Vic) would count Barry's beautiful theme from Somewhere In Time
as one of my all-time favorite instrumentals. Brendan's thoughts on Barry's work follow…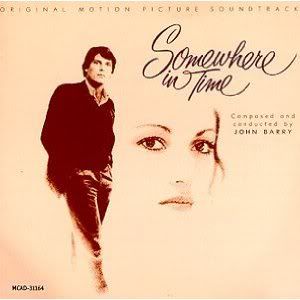 One of my favorite composers of film music died this week. Career retrospectives are easy to find, so I've decided to post a chronology of my favorite John Barry music.
The James Bond theme is perhaps one of the most recognizable pieces of music ever composed and I heard it many times in reruns of Bond movies on Irish television growing up. I also remember a Guinness TV commercial from the mid-nineties, which used "All the Time in the World" to great effect.
The first time I really noticed Barry's music, perhaps sadly, was in The Specialist
. His score for the film was sublime, and the track "Did You Call Me?" made it onto my 1999 mixtape, pretentiously titled Life: A Soundtrack.
Barry's jazz-infused score for Playing By Heart:
enhanced the emotional resonance of that underrated movie – the track "Remembering Chet" being a standout.
Then, at the dawning of the new millennium, I discovered Somewhere In Time
. It was that rare trifecta in which book, movie adaptation and soundtrack all excel expectation. Barry's score washed over me and has become one of my favorite albums. On a related note, the Jim Bajor CD
of the same name, featuring a piano version of the movie theme, is also highly recommended.
In recent years, I've rediscovered some of Barry's other work – his groundbreaking Midnight Cowboy
soundtrack, his wonderful score for Dances With Wolves
, and just this weekend, we watched Born Free
for the first time.
His last score was for the 2001 film, Enigma
.
John Barry died on January 30th, 2011 at aged 77.
Buy John Barry Music @ Amazon