Priscilla Ahn's new album, When You Grow Up, will be released by Blue Note Records on May 3rd. Featuring songwriting collaborations with Sia, Eleni Mandell and Inara George, When You Grow Up is a lovely little album full of romantic ballads and retro girl pop numbers. Lyrically, the album explores the theme of growth (hence the title) throughout the ups and downs of life and love. Musically, it's just very, very pretty.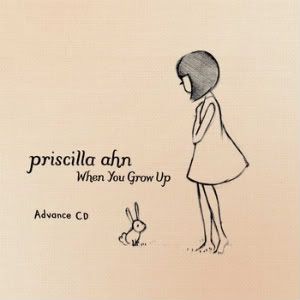 "Oo La La" has a similar retro-influenced girl pop sound as The Living Sisters and, sure enough, it was co-written with Eleni Mandell. I found myself singing along halfway through the first catchy chorus.
The atmospheric ballad "City Lights (Pretty Lights)" was co-penned by The Bird & The Bee's Inara George.
"I Don't Have Time for Love" is a sentimental, sappy and wonderfully gooey love song.
"Empty House" is haunting, melancholy melody reminiscent of songs on Vienna Teng's Dreaming Through The Noise. Priscilla's warm voice often reminds of Vienna's.
The album includes a cover of the Benji Hughes song "Vibe So Hot." And "Torch Song" is the gorgeous, aptly titled finale.
You can download a free, legal mp3 of the album's title track at Priscilla's website.
BUY @ AMAZON