Last week's pick, Dead Can Dance's Toward the Within
, was a little obscure, so I feared no one else would bother listening to it. But I did get some very enthusiastic responses, as well as a hesitant remark from another music blogger that it might be "a bit too morose and dirge-y."
There is indeed a somber, dirge-like tone to Dead Can Dance's vocal style, but the powerful voices of singers Lisa Gerrard and Brendan Perry were also capable of chill-producing wails. And the music on Toward the Within – particularly in "Yulunga" – has a more exotic mix of intricate Celtic folk instrumentation and sensual Middle Eastern percussion. Recorded live at Mayfair Theatre in 1993, Toward the Within is one of the most unique and interesting albums I've ever heard.
Toward the Within was the album that first introduced me to the traditional Irish ballads "The Wind That Shakes The Barley" and "I am Stretched on Your Grave." Lisa Gerrard's haunting a capella rendering of "The Wind That Shakes The Barley" remains, in my opinion, the definitive version of the song.
This week's classic album is…The Doors' self-titled debut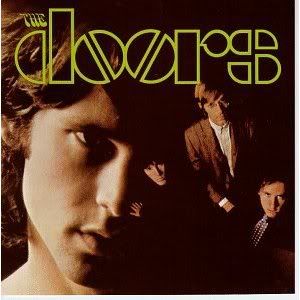 To recap the procedure here: At the beginning of each week, I'll post brief thoughts on the previous week's listening experience along with the coming week's classic album selection. Then sometime in the week that follows, we'll all take the time to listen to the album from beginning to end with no distractions. It can be as simple as just getting away from the computer to listen alone or you can make an event of it with candles, beverages and friends. Whatever format you play the album in or the manner in which you listen, just give the music your full and undivided attention.
Feel free to comment or email your opinions of our selections and recommendations for classic albums (from any decade, including this one).