Lark Rise To Candleford is my new favorite television series. I've so far watched three of the British drama's four seasons and I grow to love the show more with each episode. Very much like Cranford in its period setting and genteel mood, Lark Rise To Candleford is based on Flora Thompson's autobiographical novels. Set in the English countryside in the nineteenth century, the series focuses on the inhabitants of a small hamlet called Lark Rise and its neighboring market town Candleford.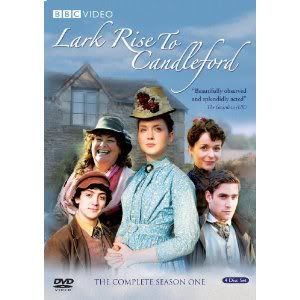 The series is narrated by and initially follows young Laura Timmins (Olivia Hallinan) from her family's humble home in Lark Rise to live and work with her cousin Dorcas Lane (Julia Sawalha of Absolutely Fabulous) in bustling Candleford's post office. Yet the strength of the series lies in the depths and humors of its many other characters.
Candleford buzzes around independent and meddling Postmistress Dorcas, hilariously devout Postman Thomas Brown (Mark Heap, whose performance is reminiscent of Father Ted's Dougal) and the snooty spinster seamstress Pratt sisters (Matilda Ziegler and Victoria Hamilton), while in nearby Lark Rise we find drunken curmudgeon Twister (Karl Johnson) and his beloved wife Queenie (Linda Bassett), amiable, oft pregnant and always debt-ridden Caroline Arless (The Vicar of Dibley's Dawn French) and Laura's hardworking and big-hearted parents, proud mason Robert (Downtown Abbey's Brendan Coyle) and longsuffering Emma (Cranford's Claudie Blakley). Each season brings a new character or two into town to shake things up, but it's the residents of Lark Rise and Candleford that pull you in.
The beautiful setting, artful direction, warmhearted writing and brilliant acting of Lark Rise To Candleford make me miss that idyllic fictional world and its lovable inhabitants so much when I finish an episode that I can't wait to return.
BUY DVDs @ AMAZON