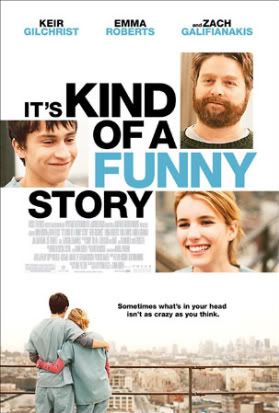 It's Kind of a Funny Story is an unlikely, but utterly likable, 2010 comedy about clinical depression.
Directed by Ryan Fleck and Anna Boden and adapted from Ned Vizzini's 2006 novel of the same title, the movie stars Keir Gilcrist as an overachieving, multi-talented, somewhat neurotic and extremely stressed out NYC teenager named Craig.
In a desperate attempt to escape increasingly suicidal tendencies born of mounting academic pressure, his father's unreasonably high expectations, anxiety-induced projectile vomit and an unrequited crush on his best friend's girl, Craig unwittingly commits himself to a psychiatric ward.
The anguished Craig soon finds solace and kindred spirits in his fellow mentally disturbed patients, which include cryptic mentor Bobby (magnificently portrayed by The Hangover's Zach Galifianakis), a self-mutilating love interest (Emma Roberts) and an almost catatonic middle-aged Egyptian roommate.
The supporting cast is rounded out with small but solid performances by Viola Davis as the hospital's poised and sympathetic therapist and Lauren Graham as Craig's well-meaning and slightly smothering mother. The brilliant Jeremy Davies is tragically wasted in a minuscule role as a friendly ward attendant.
Interspersed throughout the story are colorful vignettes illustrating Craig's chaotic thoughts and memories. Rather than becoming jarring interruptions as dream sequences often do, Craig's flights of fancy — such as an animated pencil sketch of New York City and a glam rock music video of the patients lip-syncing to Queen's "Under Pressure" — are seamlessly woven into the fabric of the film.
Fantasy and reality flow organically throughout the entire story, all accompanied by Broken Social Scene's lovely and whimsical score.
Refreshingly upbeat, though perhaps a bit too optimistic, It's Kind of a Funny Story maintains a respectful and balanced depiction of its tenuous subject matter while deftly walking the very fine line between eccentric charm and irksome indie quirkiness.
Buy DVD @ Amazon
Article first published as Movie Review: It's Kind of a Funny Story on Blogcritics.