Muruch's L.A. reviewer Laura Foxworthy joined the crowd at El Rey Theatre for The Black Angels' concert Sunday night. Laura took along her daughter, Julia, who is a freshman in college. You can read Julia's take on the concert at this link and read Laura's review below…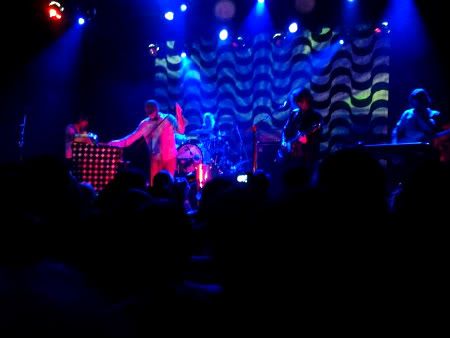 Growing up in a house of music obsession, I had an early appreciation (and eventual obsession) for a varying array of musical genres. As a young girl, I remember my Mother spinning album after album of her favorites and weekends visit by her friends who winvariably brought along a bottle of something and a small stack of their own musical offerings. There was always this cacophony of sound during those gatherings, which often went on into the early hours of the next morning. I would be sent to bed at a certain point, always earlier than I desired, and I would lie in bed with my ear pressed against the wall listening to the music.
My most intense memories of those younger years – particularly once I had been banished to sleep – was not even the sound of the melodies, but the way the music felt. I can recall the reverberation of the bass and drums on my bedroom wall, the opposite side of which stood over-sized speakers nearly as tall as I was at the time. Sometimes it felt like my chest was rattling and that the music had become part of the blood pulsing through my veins. At times it felt like the music was becoming a part of me.
The Black Angels at the El Rey Sunday night was a bit of a flashback to those days of pressing my ears against the wall; except this time I was there, in the same room, feeling the music throughout my entire body as the beats and progressions pulsed in my bloodstream. From the moment it began, the music felt like a rush of sound crashing over me and all those in close proximity. We found ourselves nearly clinging to each other as we swayed on the over-crowded floor together. The pounding of the drums felt as if it was coming from deep inside my chest, playing bounce with my heart, tying it to the strings of the bass and tethering it to and fro as Alex Maas sang to it, lulling it into submission, leading it down a dark path, disoriented and hypnotized.
To be completely blunt, I felt like I was floating in a drug-induced haze. The black and white moving, melting colors on the screen behind blurred my eyes as the music kept pulling at me, nearly dizzying me. I felt like this "trip" had ricocheted me off the walls of the El Rey, knocking me cold on the floor, only to wake up transported into some melding of Jim Morrison and The Velvet Underground. Part of me wanted to spin around, shake my hair, kick off my shoes and grab hands with strangers next to me. Let the crowd become one and float together, into the sound. Another part of me wanted to shut my eyes, forget there was anyone else around and imagine that I was at a Doors show in late 1960s Los Angeles, as my mother had been many times before I was even in existence.
I wish I could report a song list, or even a notation on which I liked better, but I can't. It was as if the songs all became one, and the experience was just letting myself get lost in it – and this was a good thing. I felt transported and I felt in awe, especially of Alex's amazing vocals (at times, I swear, he was Morrison re-incarnated) and the beyond description drumming of Stephanie Bailey, for whom I honestly cannot sing enough praise for.
After the show, as I stood out in the cool Los Angeles evening, I felt shell-shocked and disoriented. I looked around at everyone else wandering around the pavement in front of the venue, and they all looked like they felt the same. We looked like the victims of an abduction who had been dropped down in the desert after being swept through some far away galaxy. We had been on a voyage, with no control of the journey or destination, and I think we were not necessarily ready to come back home. It left us changed, if only for an evening, and the music was still dancing on our skin.
This was much more than a show, it was an adventure in sound.
Buy Music @ Amazon